In the early 1970s,
in the southern Iranian city of Shiraz — the city of poets, literature, wine and flowers — a teenager by the name of Mohammad Firoozi Dashtestani sang rock 'n' roll songs in nightclubs, to audiences who couldn't understand the lyrics, with a band called The Lost Cats. He had been raised in the sleepy Persian Gulf town of Borazjan, and later in the religious and scholarly town of Fasa, where he used to sing the Call to Prayer in the village mosque as a boy; and for local celebrations he had played drums for bandari music, the raucous local style of dance-music that draws heavily from African, Arabian, and Indian influences. However, after moving to the much larger city of Shiraz he became mesmerized by the altogether different sounds he heard emanating from the Kuwaiti station he was able to tune in on his father's radio, and he learned phonetically to sing rock songs in English, a language he didn't speak nor understand. Decades later, Mohammad Firoozi, who has now lived in Texas more than twice as long as he lived in Iran, sings, and rocks, in nightclubs in Austin, Texas — the Live Music Capital of the World — but now he sings in his native Farsi, mostly to audiences who can't understand the lyrics, as the frontman to one of Austin's most popular bands, Atash.
Atash is not a typical band. The members of the group, each of whom collaborates in the creation of Atash's music, come from many corners of the world, unified by a religious devotion to their crafts as musicians and a love for making people dance in a celebration of life that borders on ecstatic mysticism. Sounds of east and west, of Asia, Europe, Africa, and the Americas, meld seamlessly into a sound which is both hypnotic and vibrantly danceable, and the audiences who flock to Atash shows evince a similar diversity, united by a spirit of openness and love.
This is a music about breaking down barriers, building bridges, connecting, and celebrating, and it defies categorization and shatters stereotypes — after all, few would expect such a powerful concoction of international flavors to come from the middle of Texas! Interestingly, the only label which even comes close in identifying the music is the notoriously nebulous category called "world music," — a label that can mean almost anything; except, in this case, the music really does quite literally come from "the world!"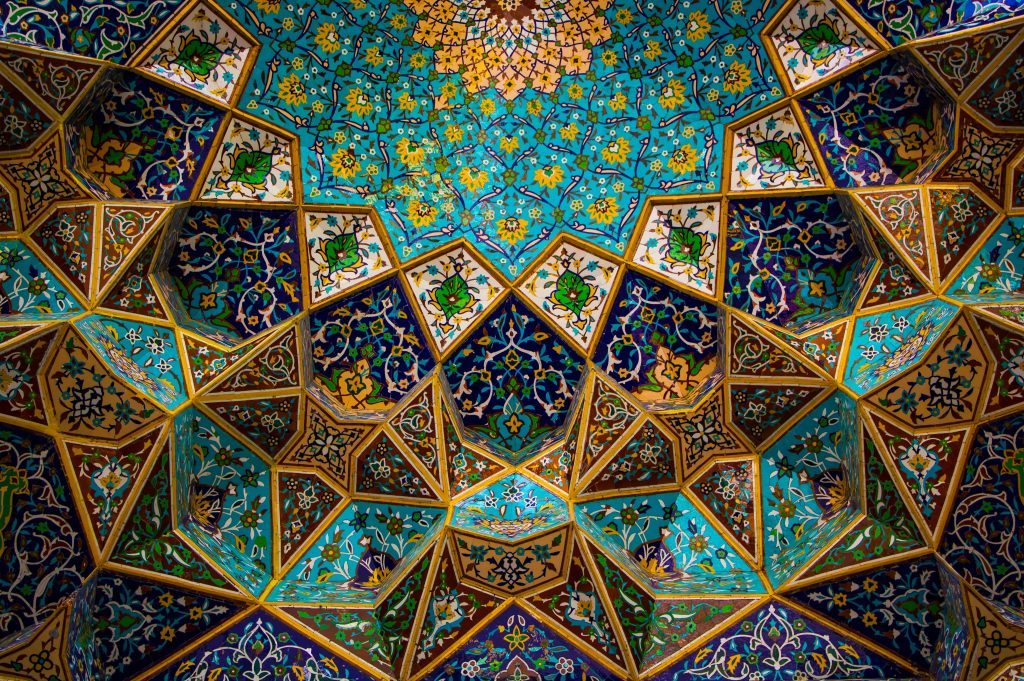 But how did this worldly crew come together? The answer seems to rest in the drinking of wine together, according to band members. "Mohammad and I used to meet at parties in Austin, where we would drink wine and start jamming," says violinist Roberto Paolo Riggio, the musical director of Atash. Other band members share similar stories of the beginning of their involvement. Fitting, since, according to Wikipedia, "the oldest sample of wine in the world, dating to 7,000 years ago, was discovered on clay jars recovered outside of Shiraz…" Shiraz has historically been known for wine-making, as celebrated in the works of its medieval mystical poets, such as Hafez and Saadi. (It should be noted, however, for the benefit of those who don't, that not all members of the group drink, as some abstain due to religious considerations. However, this is also an illustration of the diversity of backgrounds which characterizes the band!)
In fact, this mystical Persian poetry of the early centuries of the last millenium provides the basis for much of Firoozi's lyrics. Rumi, Hafez, Khayyam, Saadi, and other poets who wrote in Farsi, strongly associated with Sufi mysticism, have been studied and revered by Firoozi throughout his life, and their words are generously sprinkled throughout Atash music, along with his own beautiful poetry. Themes of devotional love, equating the devotion to the Beloved with love of God; love of nature; the transcendent power of love; the vision of life as a journey of love; focus on being present; and the intoxication of love, are all recurring themes in the songs of Atash. Firoozi delivers the verses with the rapture of a shaman, or at times, a madman, intoxicated by love, like Majnun, the figure of Middle-Eastern folklore who, along with his star-crossed beloved Leili, also features quite prominently in the band's songs. Another thematic element is the eschewing of labels, and other forms of division among people, which derives as well from the writings of the Sufi poets. Firoozi sings on the track "Sahara Spring" from Atash's latest album, Everything Is Music, the most famous poem by Shirazi poet Saadi, "Bani Adam," or "Children of Adam," which relates that all human beings are brothers and sisters, like limbs of the same body, and when one is hurt, it causes distress to all.
The music itself springs from a collective creative consciousness that has evolved between members of the band who are, each and every one, a master of his respective instrument and tradition(s) of music. Rather than setting out to combine forms of music in a contrived fashion, the music emanates from the simple desire of the musicians to make music together that they themselves will enjoy, and, by extension, so does the audience. Because of their varying backgrounds and tastes, noticeable elements may be described in the music, like various spices which might be part of a cohesive dish. Thumri, qawwali, reggae, flamenco, western classical, Arabic, bandari, west African, Latin, rock, blues – any musical tendency might find its way into an Atash song at any given moment. Although the songs are very tightly composed and arranged, the natural comfort with improvisation shared by this brotherhood of musicians can result in an infinite variety of approaches to the performance of a given song, and never is a song performed exactly the same way twice, making each performance unique and creating a devotion among fans akin to the followers of "jam" bands such as the Grateful Dead.
This is one of the reasons that Atash has received 7 Austin Music Awards, being voted "Best World Music Band" for the last six years in a row. Mohammad's rich voice has been compared to Nusrat Fateh Ali Khan and Cheb Khaled, his stage presence to Mick Jagger. The band is directed by violinist Riggio, who brings a foundation in western, Arabic, and Indian classical music, as well as a broad range of experience in American, Latin American, and Mediterranean music, to the table. Drummer Jason McKenzie lends his expertise in jazz, rock, country and in north and south Indian percussion to the mix. Bassist Dylan Jones is steeped in American folk traditions, hip hop, jazz, Latin, and a worldly understanding of bass across musical genres. Violinist John Moon brings his classical training and experience in a wide variety of music to the ensemble. The brothers Alseny and Aboubacar Sylla hail from west Africa, where they were trained in diverse percussion instruments, dance, and ritual traditions across the region, bringing another strong element to Atash's music. Sitarist Indrajit Banerjee, trained in Hindustani music, but gaining the flexibility earned through years of recording for Indian film music, adds a virtuosic touch and keen melodic sense to his instrument. Guitarist José Manuel Tejeda, adds dextrous hands proficient in classical, flamenco, jazz, and the music of his native Cuba. The band's newest member, Chris Hausler, brings drumming and percussion experience in African, Indian, Americana, and eastern European music; he is also the drummer for the The Flying Balalaika Brothers.
©2022 Atash • All Rights Reserved